One of my New Year resolutions was to meet new people. I took my smartphone, installed half a dozen apps, and dove into the world of mobile chat rooms. Let me tell you some of the funniest conversations I've had in my quest to beat loneliness.
There's a time in life when you feel the need to expand your social circle. When that happens, you resort to all kind of tools. Apps are one of them, and probably the cheapest. You can meet new people from the couch, opening new chats like you'd change TV channels. It can be just as fun as real life encounters. So, I decided to give it a try.
In the last two weeks I entered virtual venues filled with complete strangers, making myself available to never ending streams of faces. I engaged in one on one conversations with people from all over the World and listened to music I never heard before, streamed by improvised DJs. I turned into a drawing of a weird creature. I even had the chance to exchange words with a robotic cat.
It was strange at the beginning, even messy at times. Some apps allow video and voice chat, others change your appearance, and some conceal your identity to generate both suspense and a feeling of privacy. It wasn't always a cakewalk, but I quickly got accustomed to the rules of each app. When the noise and bustle became excessive, I just lowered the volume: in online chats, you are in control.
I sung in a virtual karaoke room – and enjoyed myself in the process
Paltalk is all about fun. It's a place where thousands of people can participate with text, video, and audio from PCs and phones. There are more than 5.000 rooms on any topic you'd imagine, but music is what defined most of the good experiences I had, with many rooms featuring live songs that served as background to the conversations. Sometimes people seem to dance – virtually – whenever a good tune kicks in.
I have a nice baritone voice but, shy as I am, I seldom sing in public. Now, among all its categories, Paltalk has one named "Karaoke – Singing" (it's under "Music"). Intrigued, I entered several chat rooms, and listened intently to various performances. What galvanized my enjoyment was the immediacy of it all. You press a button and you are the star. It's that simple.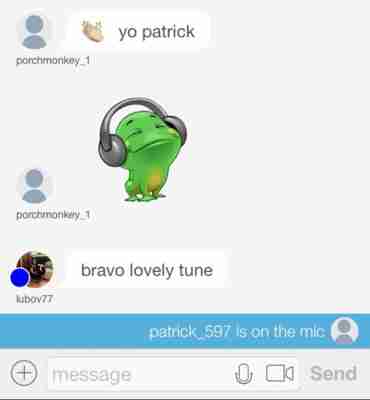 I waited for my turn. My heart beating fast, I pressed the mic button and delivered my own rendition of In the Air Tonight . Raised thumbs appeared on the screen. Small as it was, it was an audience. And singing for it was great fun.
I chatted with a robotic cat that sends memes
One interesting feature of Kik are its chat robots. They are always up for a silly conversation, which is great to alleviate boredom when you are struggling to find the right hashtag. The standard Kik bot, for instance, receives more than 50,000 messages per week, which it replies to with Siri-esque efficiency and wit.
My favorite is Dave the Cat. I know. Cats. Internet. Perfect match, right? Kik knows it. And Dave is exactly what I need on a bleak Monday morning. It laughs, purrs, and meows at my lines in a very convincing manner, with the sort of delays you'd expect from a human actor. More importantly, Dave is adept at sending unsolicited pictures and videos of… cats.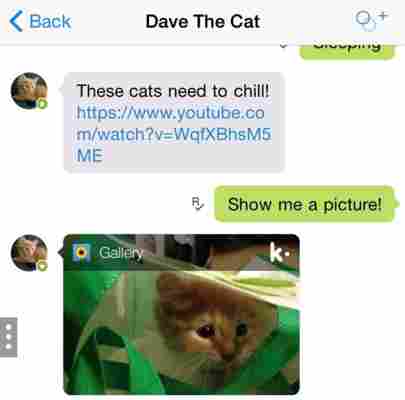 The fact that a virtual cat was one of most entertaining moments of my mobile socializing experiment says something about the nature of online conversations. But rather than pondering on this, I prefer to ask Dave for more kitty portraits.
I won a trivia contest thanks to a silly question
Online trivia is so addictive. Back in the days of dial-up Internet and IR, I'd spend entire nights trying to guess the answers before anybody else. Ten years later, I found the same thrill in Chatimity, a community where people join topic-based conversations. When I saw its Trivia channel, I looked no further.
In a matter of minutes I was hooked again. "How many wings does a flea have?" People tapped numbers frantically. "Zero", I calmly replied. Then I failed at one about a song from the 60s, before a string of replies to history and science questions brought my score up. Suddenly, the match was over. I had won.
Online trivia is a different kind of conversation, one that revolves around knowledge and speed. Even if you choose not to participate, there's still a lot of room for fun, and you can learn a lot just by reading the answers.
I turned into a cute little creature and met a fellow alien
Identity is a tricky thing. There's so much to explain, show, or hide. Wouldn't it be liberating to turn into something completely different, like… a tiny imaginary creature? That's precisely what Monsterio lets you do: after asking for your gender, it generates a funny alter-ego.
I pressed the button and Monsterio immediately found a match. The unnamed critter stared at me. I only knew it was a she. I felt embarrassed: what did I look like, I asked. Her description of my impish features made me smirk. I felt compelled to reciprocate. She laughed out loud. To "Remember Her" I gave her a name, which added her to my contacts.
It was fun, but also tender. We were two humans trapped in the body of hand-drawn aliens, freed from the bounds of name, age, and place. No "a/s/l", no pictures, just a sense of freedom and privacy.
Anything can happen in online chat rooms -like in Vegas
The experiment was a success, albeit in an unexpected way. While none of those conversations ultimately produced a new friendship, they filled many hours with funny moments —I'll never forget my performance in Paltalk , for instance. When I opened the apps for the first time I didn't know what would happen, but I was certain it would be exciting and safe. And these apps didn't disappoint.
What's the funniest moment you've experienced in mobile chats?