There's a rare thrill in getting something for nothing – especially from a big corporation. You feel like you've beaten the system; one that wants to drain every last penny from your wallet in return for those must-have goods.
So when you can legitimately earn free stuff from Microsoft by making some small changes to your online habits, it's worth trying. You might not earn much, but every little helps, and it's an opportunity to get a bit more value from your spend.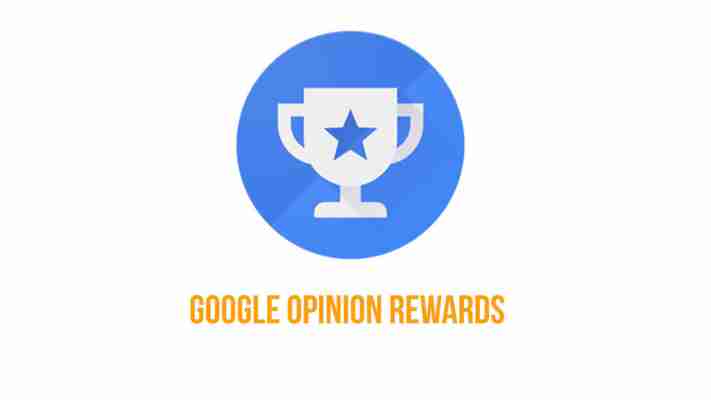 How to make money using Google Rewards
What is Microsoft Rewards?
Microsoft Rewards is a lot like any loyalty program. It rewards you with points for using its products and services, such as shopping in the Microsoft Store, using its Edge browser, and searching with Bing. There are also other ways to earn, such as doing quizzes and clicking links, and you get 100 points just for taking the Rewards tour.
You can then redeem your points for sweepstake entries, gift cards, Xbox game passes, charitable donations, and much more. According to Microsoft, you need around 5,000 points to earn enough for a $5 reward. That sounds like a lot, but it's actually quite doable when you realize how little you need to do to earn points.
How do you register?
Microsoft Rewards is free to join, but you must have a Microsoft account. So if you don't have one, sign up now.
Once signed in, just head over to the Rewards tab. You'll then get the "tour" as a series of pop-ups (like the one below) that explain how Rewards works, and at the end, you'll receive 100 points. A nice little start to your pot.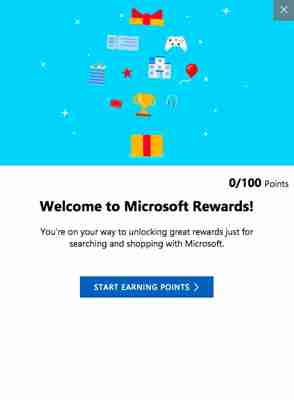 Before you look into earning points, you might want to set a goal first. This helps motivate you to earn points by setting a target for you to hit, which can be anything from a donation to your favorite charity or a shiny new Xbox One.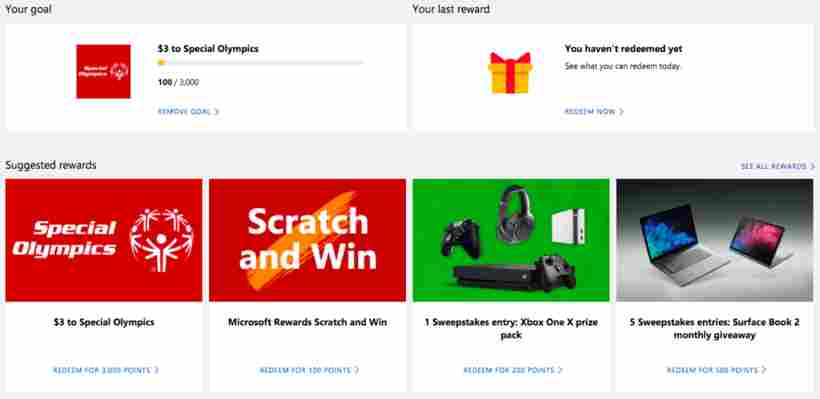 How do you earn points?
There are lots of ways to earn points. Two of the simplest are to use Microsoft's Edge browser and Bing search. This might be a bit painful if you're used to Chrome and Google, but are they also offering you free stuff? No? So, maybe it's worth the switch.
Aside from using Bing and Edge, you can play games, enter competitions, and shop online to earn points.
There's also the Daily Set – three daily tasks that when done every day for a 3-day run, earn you an extra 45 points.
At the top of the "Earn" tab you'll find your profile and points, so you can keep track of your progress.
Once you've gone past 500 points you'll "level up" and be able to collect even more points for the same activities.
How do you redeem points?
Once you've reached your points goal, or earned enough to start swapping points for prizes, head over the "Redeem" tab. Here you'll find a broad selection of treats to spend your points on, or you can donate the points to charities for an equivalent cash amount. For some charities, Microsoft will even match your donation dollar for dollar. Just click on what you want to redeem your points for and follow the instructions from there.
That sums up Microsoft's Rewards program. It's actually a very easy-to-use program – just make sure you're always logged into your Microsoft account, otherwise your points won't be registered.
How to earn money with Instagram